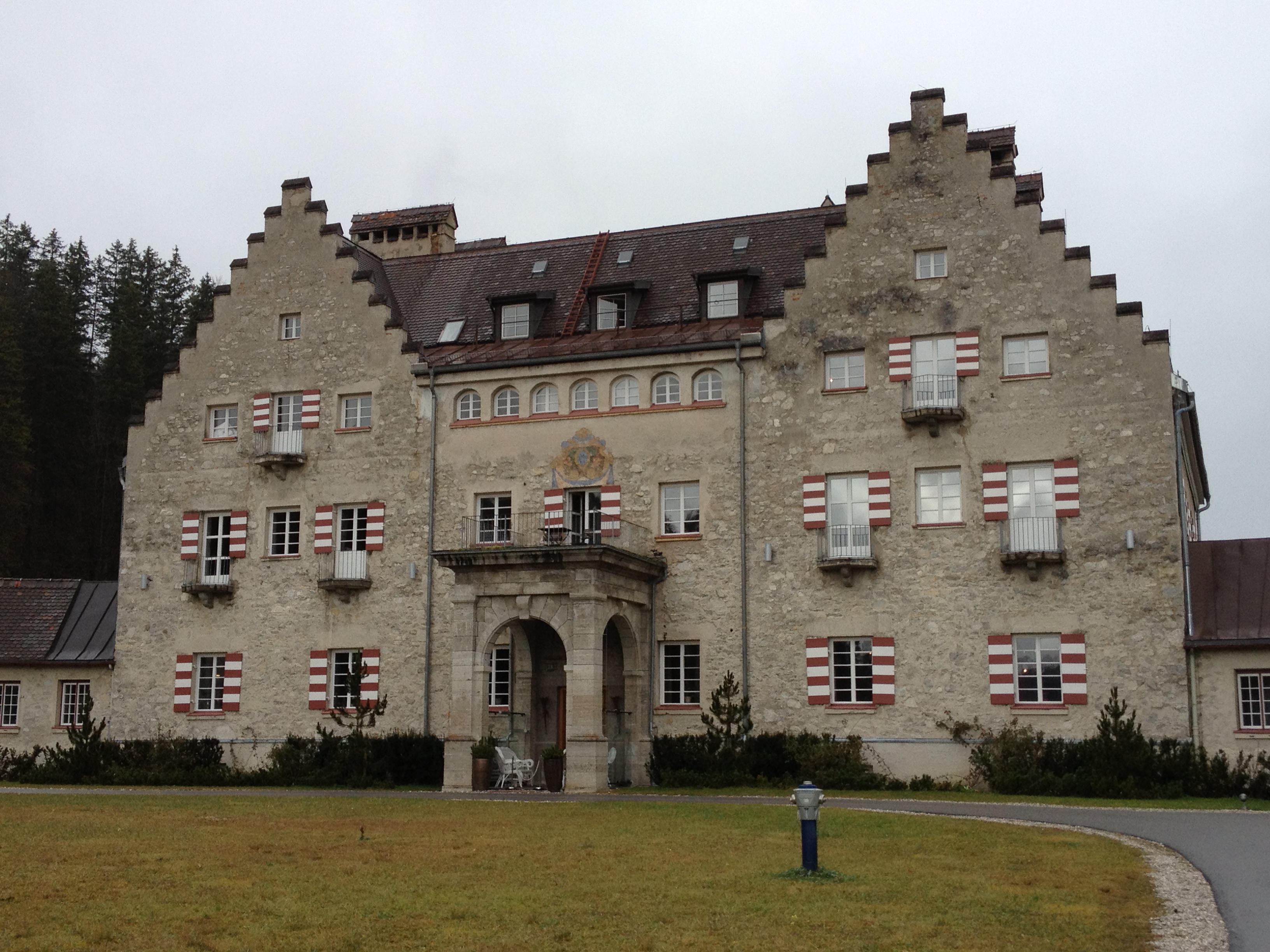 Driving to the "Das Kranzbach" for the first time, you can hardly believe your eyes. A small private road brings you to a hidden valley and suddenly you see an English castle, surrounded by old woods, rough mountains and -best of all- no other buildings as far as your eye can reach. You might believe that you've been beamed straight into a fairy tale. But no, it's not a Disney movie rather than one of the most beautiful and relaxing places in Bavaria.
Built in 1913 and inspired by the arts and craft movement, this castle was supposed to be the residence of the English Lady Mary Porter. She had commissioned the castle while studying in Leipzig. Sad but true, due to WWI she never saw her finalized castle. In between the house has been used for several purposes until it finally became a hotel in 2007. Before the opening of "Das Kranzbach", the old building was renovated thoroughly and complemented by a wonderful SPA area. The new, wooden building is a perfect example of a stylish but reduced architecture that is confident enough not to compete with the old castle or the breath-taking nature.
Why come back

If you're living a busy life and need a little bit of relaxation, this is THE place to be. We really appreciated not only the beauty of the place, but also their wonderful service staff. Albeit they're not 100% perfect (who is?), they are sympathetic, super friendly and authentic – this is a style of service that I'll always prefer over extremely friendly, yet superficial service. It doesn't even seem to matter whether you arrive with a brand new Porsche or a shabby and rusty Ford Fiesta as we did.
Do you need more reasons to go there? Ok, that's easy. Here are a few things you shouldn't miss:
Swimming in the outdoor pool when it's already dark and snowing – breath the fresh air and feel like an English lord
Trying the home-made syrups mixed with clear water from their own spring in the mountains – consumed best in between checking in or out of their fantastic saunas
Enjoying the organic breakfast buffet – try the yummy selection of regional cheese and sausages
Room for improvement
First of all, it is quite pricey. That has prevented us from returning there so far. Also, most of the guests seem to be 50 plus. If you're looking for a young and hip crowd this is not the place.
Totally in ♥ with

The super cozy beds. I promise that you'll feel ten years younger when waking up 😉

What my wife says
I think the Kranzbach is like a magnet. Once you've been there, you immediately wanna go back. I'll freely admit that I've been dreaming about the Kranzbach for more than a year now. We went there for a much-needed break from work and the two days off of work felt like at least one week of vacation. The serene surrounding gave me so much inner peace and happiness that I hope we'll be going back there rather sooner than later 😉
Let more pictures speak