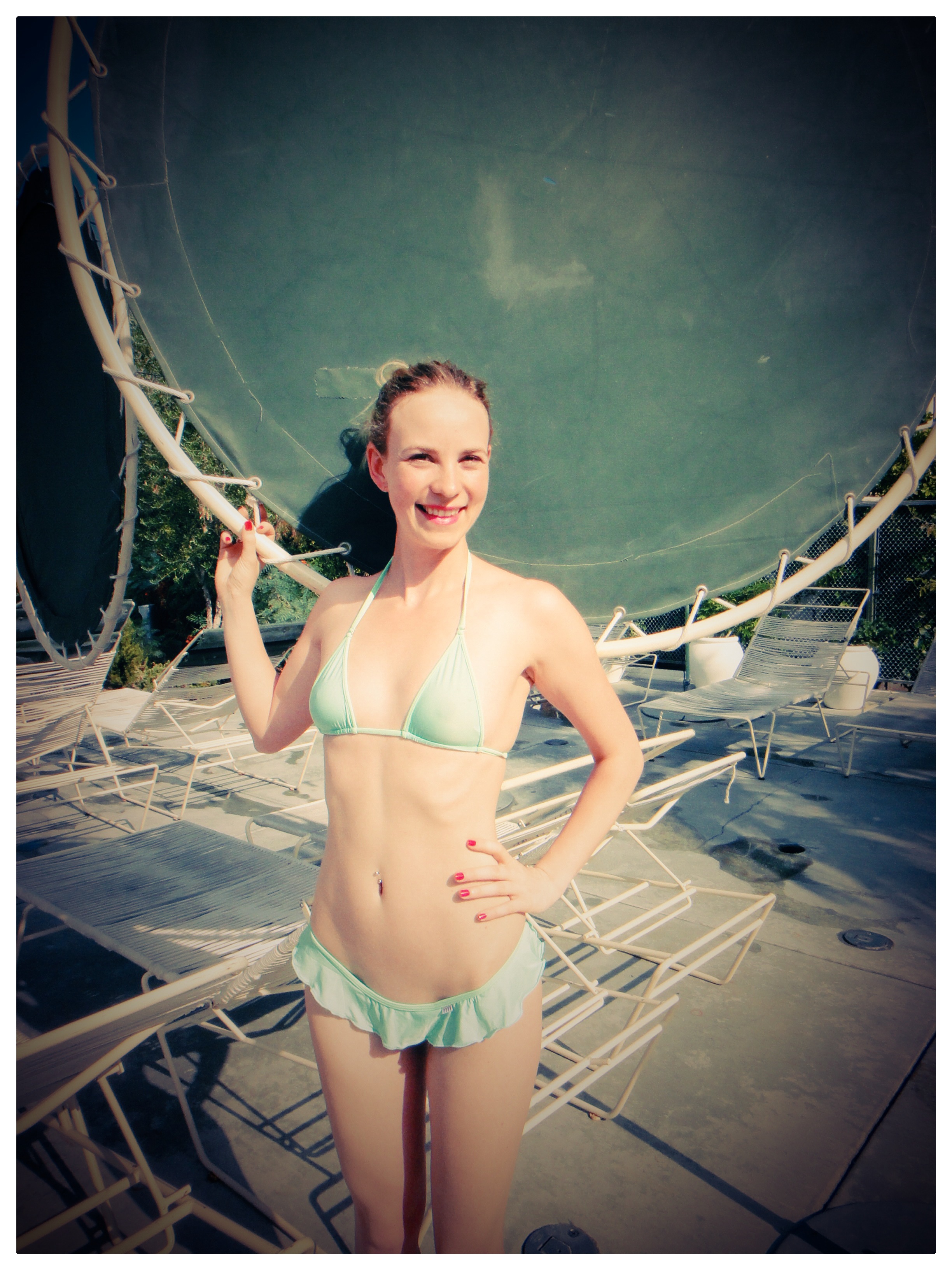 Back in Munich we had decided that Palm springs would be the first stop of our honeymoon. My wife had researched two hotels: The Le Meridien Parker and the ACE. I immediately fell in love with the Parker because of the sophisticated and slightly crazy movies that show their different types of rooms – have a look at their website. My wife preferred the ACE. In the end, it was a question of budget. The ACE was slightly more affordable and so we decided to book a larger room in the ACE, which had its own private patio including a fire place.
The ACE truly feels and looks like a motel from the 50s. The rooms are a perfect combination of reduced design (the floor is pure cement), stylish furniture and cool extras: there's an open mini bar on top of the sink and besides the bed is a vinyl player with nice LPs.
Why come back
There are plenty of reasons to come back:
The chilled atmosphere: Everybody here was just so relaxed. Most of the guests were super hip, but different to most design hotels in Europe they didn't seem to critically judge others. Even if they didn't have nerd glasses, a beard or tons of tattoos 😉
The delicious food at King's Highway, the old-school diner of the ACE hotel: They offer dishes with a twist. Both their burgers and their salads are a must try. We especially loved their quinoa salad with dates, cranberries and kale and their Citrus Jikama salad #nomnom. One evening we went to Mr Parker's, but we were slightly disappointed. Their French food is totally fine, but as a European it was nothing spezial. Maybe we have been in France, too often. Next evening we returned to King's Highway again and were super happy with our decision.
Palm Springs: The city is always worth a visit. The mid century architecture in combination with the desert-like landscape is absolutely breathtaking. If you go there, make sure that you do the architecture tour. You can buy a map with all interesting buildings for a few dollars at the tourists office. Note: There's also an app that seems to offer more information for the same amount of money.
Room for improvement
Don't get me wrong, the staff at the ACE is nice and friendly, but the service experience wasn't perfect. They knew that we were on honeymoon, but they didn't react to that fact, at all. I wouldn't expect an upgrade or something big (even if we dreamt about it), but a simple congratulation or a free cocktail at the pool bar would have been nice. This brings me back to Mr Parker's: their service was definitely superior and they also invited us to a beautifully decorated and delicious dessert.
Totally in ♥ with
48 degrees Celsius are a strong argument to do nothing except from chilling at the pool. That is perfect if you tend to be overly active as we sometimes are, but could really need some rest and peace. Grab one of their delicious cocktails, listen to the cool music and relax. BTW I found this fantastic review on TripAdvisor: Not for kids (unless they're drunk hipsters). It's maybe the best way to describe the ACE feeling. Do you wanna join the hipster crowd? Don't forget to get a drink all the time and smoke plenty of cigarettes 😉
What my wife says
The ACE is by far the coolest, hippest and most relaxed hotel I have ever been to. I pretty much loved everything there: from the beautifully industrial-vintage style decorated room, the awesome cocktails (my favorites were the Desert Facial and Pimms 32), the water sprinkler at the pool bar, their yummy Granola Parfait for breakfast, to the record player in the room. Whenever I feel overwhelmed by the madness of a work day, I wish I could beam Jan and me back to the ACE. We'll be back xoxo.
Let more pictures speak