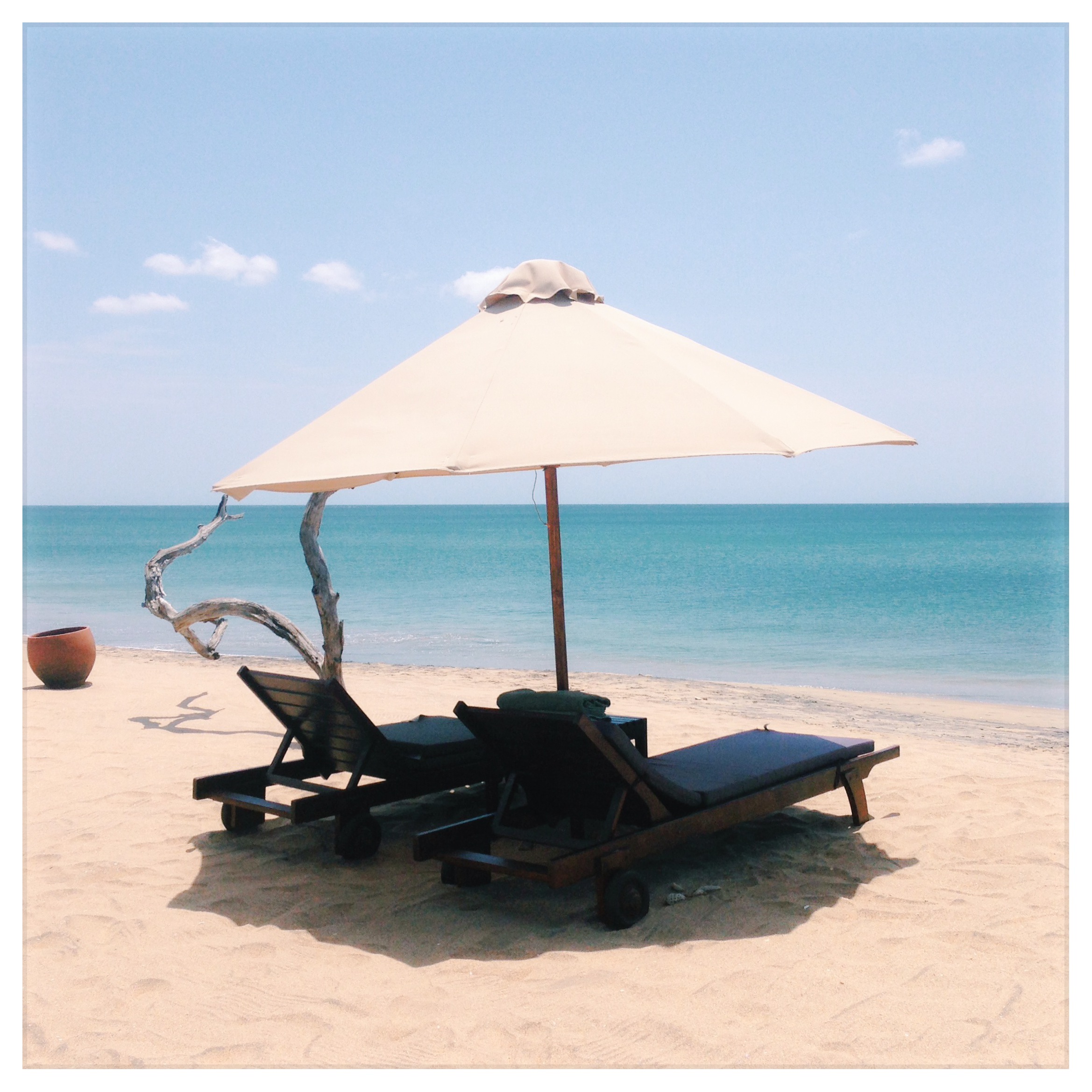 This little resort is close to Trincomalee in the eastern part of Sri Lanka, an area that hasn't been accessible for foreigners for many years due to the civil war. It was a tip of a former colleague and turned out to be a true hideaway.
The heart of the resort is an open-space building with a well-equipped bar, restaurant and a lovely pool. The rooms are spread to both sides of the main building. Well, rooms is maybe not the right word. Every party has its own bungalow of app. 50 square meters that is almost as big as our old apartment in Munich.
We stayed in a Jungle Bungalow, which is a good compromise between the pretty expensive Beach Bungalow and the Lagoon Bungalow that faces the street.
Why come back
The resort is located directly at an amazing and almost lonely beach. The sea is totally clear and has the perfect temperature: it's hot enough to stay in the water for the whole day, but it's still refreshing.
The Jungle Beach Resort was the perfect combination to enjoy a relaxed, laid back and luxurious break from our travels. This is maybe the strongest reason to come back, but let me give you two more arguments:
The whole area is just so beautiful. You're surrounded by thousands of flowers and trees. And it's so well maintained and luxurious that you have a little bit of jungle feeling, but with a lot of comfort and without the risk of meeting creepy animals 😉
Last but not least: The super friendly staff. They were not perfect, but this is not what I am looking for. They were extremely friendly and you felt that  they really meant it. And they also had a very good team spirit.
One afternoon, coming back from the beach, they asked us if we would like to test a new cocktail for free. What a nice surprise, so of course we said yes and sat down. One waiter immediatelly brought us the first cocktail and several others followed. All of them were were created by the team. Soon we learned that they had an internal cocktail competion for the team and we were nominated as jury. The cocktails reallly surprised us, too: Almost all of them included ingredients you wouldn't expect in a cocktail, at least not in German cocktails – from beetroot to tamarind to carrots. What they had in common? They were super delicious and very refreshing.
Room for improvement
The WLAN is neither fast nor stable enough for a luxury resort. In most areas it's very hard to get internet connection, at all. If there's no need to go online to book the next hotel this can also be an advantage, but for us it was a bit unnerving.
Totally in 

♥

with
In addition to a luxurious bathromm, each bungalow has its own awesome outdoor rain shower by Grohe. This was one of the best showers I ever had and you know that I am quite picky when it comes to showers. The shower is surrounded by a wall, which guarantees you 100% privacy. Only some geckos and frogs might join you. It's a truly unforgettable experience to stand in the middle of the nature and take a refreshing shower.
What my wife says
When it comes to hotel rooms I am a real girl and oftentimes the selection and quality of bath amenities is disappointing. However, the eco cosmetic line of the Jungle Beach Resort was amazing. I loved both the texture and the scent and would love to use them regularly. Ahhhm, in fact: I did bring home one of their small samples and everytime I use it, it mentally brings me back to their awesome outdoor shower. Wish the weather in Germany would allow for something like that. It really was a shower heaven!
My tip for all love birds and/or see food lovers: Book a crab dinner right at the beach. The food was amazing, the location couldn't have been better and it was a fun evening. You just need to be ready to make your hands dirty with all the crabs they bring you. Actually it took us some time (and some swearing from Jan) until we managed to open our first crabs – but it was definitely worth it.
Let more pictures speak