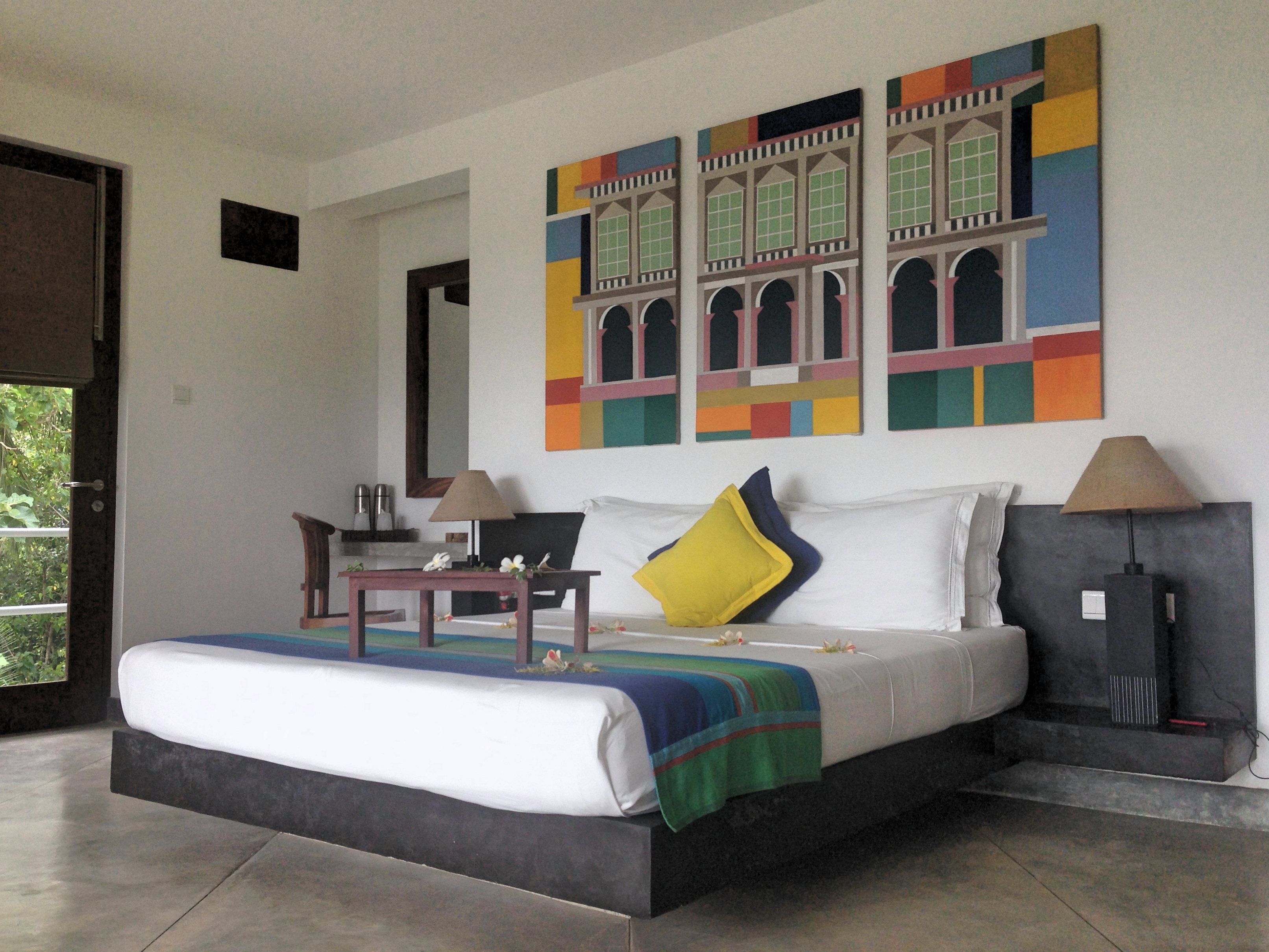 When you arrive at this wonderful small resort, you can hardly believe that Tangalle in one of the most touristic areas of Sri Lanka. The resort is located at the end of a small road in the middle of nowhere. When the front gate opens, you see an incredibly well maintained garden with palm trees, a swimming pool and several two-floor bungalows. Looking slightly too modern and functional from the outside, the interior of the bungalows is simply stunning. 
They upgraded us to a suite (thanks for this!), which was located on the second floor. The main room with a concrete floor was extremely spacious. It had a reduced design, but still felt comfortable and cozy, which isn't always the case for design hotels. The suite had a huge balcony and from the very comfortable bed you had an overwhelming view of the lagoon. The bathroom was the most spacious I ever had and one of the most comfortable ones, as well. I am still totally in love with the half open rain drops shower! If I had something similar in Munich, it would be way easier to stand up in the mornings. Well, of course we would need better weather, too 😉
Why come back
There are way too many good arguments to return to Buckingham Place to note down here.
The rooms are so beautiful and the superb service team made our short stay truly unforgettable. We have been there for one night only, but it felt like a three day stay. The whole team was perfectly organized, super friendly and made us feel special at any time. A huge compliment to Nick, the owner of this place, for finding and building such an amazing team. With all they do, you can really feel that they are very proud of their achievements and are really happy that the guests value it. Luckily almost all guests seem to feel in a similar way. The Buckingham Place has some of the best ratings on TripAdvisor I have ever seen.
Room for improvement
In this case it's really hard to find something that's not perfect. Therefore, I am "complaining" on a very high level. The resort actively asked us for our honest opinion, because they truly believe in quality, so here are the few points we've mentioned in the guest survey
The aircon in the room is hard to regulate and directly blows the cool air on your bed. It's good to have a functioning one, but for Europeans not used to aircons, the cold air could be a little bit more indirect
The complimentary drinking water tastes too chloride for my taste. But again, it's awesome to offer drinking water free of charge and it definitely was drinkable and didn't taste bad
Totally in ♥ with
Ginger, the old pony that lives in the resort and is very cute and friendly. It had a really hard life before Nick decided to "adopt" it. Now it's the mascot of the resort and can enjoy the rest of its live. In addition to this, it's a very useful lawn mower 😉
THE service moment
This hotel offered us the best service experience we ever had. The superb service caused me to introduce this new rubric to award service that really makes a difference. Let me tell you one situation to show you why I was so overwhelmed: In most beach hotels you'll find a note that it's not allowed to take the hotel towels to the beach – at least not if the hotel doesn't have a sun deck at the beach. At Buckingham Place it was completely different: as we mentioned that we would love to go to a nearby beach (where they had no sun deck or whatsoever), they even actively offered hotel towels. It's such a small thing, but for me it really made the top-notch difference.
What my wife says
WOW – wow to the truly unique combination of authentic hospitality and first class service. I totally fell in love with the bed: awesome mattress, high quality linen and great pillows. Sweet dreams for sure. And ladies, if you complain about a small bathroom at home. Check out the one in the suite. I guess it was 30sqm big and I could have easily just lived there.
 Let more pictures speak